| | |
| --- | --- |
| 2019-10-14 | |
Equipment Financing for Agriculture – Which Way Should You Go?
Agriculture is an industry with very high barriers to entry. High startup costs from buying land to upgrading current operations with large capital purchases such as new combines make agricultural businesses very expensive to run. Farming businesses are usually well-geared with substantial debt because this is the only way to raise such significant amounts of money; cash is scarce and prices are high.   
Whether you're already well established or not will roughly determine how much you can borrow and how much you will pay in repayments. The reason for this is because there are usually two types of financing options available. The first is when you take out a loan to fund the purchasing of new assets and the second is when you use your current assets as security to borrow extra cash for your business. This article will go into detail about the two options and see how business credit cards compare to these.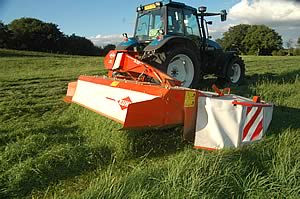 Equipment financing
The first option refers to business financing, where you take out a loan to fund a new asset purchase. This is referred to as equipment financing because it's solely for the purpose of buying fixed capital that's necessary for the running of a business. This is usually for those who are just starting up or perhaps quickly scaling up early on into the business. It can however be used at any stage of the business upon an emergency.
This is because the equipment financing is usually extremely fast. The traditional methods of bank business loans may take over a month to process an application with the need for business plans, 3 to 6 months of trading history, minimum turnover and sometimes evidence of where you will spend the money. Instead, there are now quick, online, equipment finance alternatives for equipment financing that may only take a day.
Fast access to financing is extremely important in agriculture. It's an industry that demands high volume orders which can be extremely difficult to fulfill. If a major piece of equipment goes bust then you simply cannot complete the orders and finding the cash for a replacement can sometimes be impossible. A quick loan can be a great way to help smooth over your cash flow and stay on top of things. Online broker companies offer can approve loan applications within one day! This is far away from the weeks waiting on a response from a bank, as well as the time-consuming aspect of bank applications. Online broker applications take significantly less time and only require a limited amount of evidence and requirements from you.
Such equipment financing doesn't have to be a last resort in emergencies either. It can also be a proactive investment strategy to aid expansion. New buildings can be developed and that space can be rented out or more vehicles can be bought to increase yields. You will likely receive a quote within a day or two, so it is easy to calculate if the loan is viable. Usually you will want to find a loan where there is no fee for early repayments too, so you can cut down on interest payments. Sometimes a loan is only needed for a week just to make ends meet, so this is worth bearing in mind.
Ultimately, equipment financing means you can bear the cost of the expensive assets that are required in agriculture. Trying to pay for these with savings may mean you have no working capital remaining for your day-to-day operations and expenses. The number one reason why businesses fail is cash flow and this issue certainly doesn't escape farmers, who are often asset-rich but cash-poor.
Secured loans
Secured loans are where you raise funds through a loan that is secured against an asset. This means that the lender can repossess this secured asset if the borrower fails to repay the loan. This is known as refinancing an existing asset, and can include assets such as vehicles, equipment and buildings. As long as the asset is reusable for the lender and is removable, it can be a secured asset.
This option is great for those who already have an established business with significant assets. Because the lender is more confident in receiving his money back (one way or another), there is less risk involved for them. Less risk, when it comes to lending, means smaller interest payments (think of the difference in interest between 'safe-as-houses' mortgage loans and risky pay-day company loans.
This is therefore a cheaper way to gear the company, but it also takes longer. For those with limited assets or limited time, secured loans may not be practical to resolve fast-approaching cash flow issues.
Credit cards
Credit cards are also a viable option for some. Significant loans of up to $50,000 can usually be taken out relatively quickly. The most advantageous aspect of business credit cards is their revolving line of credit. You can borrow and repay as and when you need, so long as the minimum monthly payments are met. The APR isn't as good as secured loans, but it isn't terrible either (usually around 15% to 20%). The biggest barrier to business credit cards however is the extremely strong credit score that is usually required, and as a result, may take agricultural business owners a very long time to get hold of one.
Final word
Ultimately, with the low-margin business of agriculture, cash is king. It's a very difficult business to have a sustainable cash flow and to retain significant cash reserves in. The best way to do this, usually, is to make use of the financing options available. The average combine harvester list price is around $200,000+ USD; there is a very slim chance any business owner can expand or replace assets using cash with such high prices. If done recklessly, cash flow issues can worsen due to the high repayments. However, when performed timely and astutely, financing is a necessary way to expand and grow a successful business in virtually any industry.